Not all people are blindly reliant on Windows and macOS operating systems for their laptops. Those who are willing to open their horizons, going with a Ubuntu laptop could be a great choice. Many people are not even aware that Linux is distributing this operating system in India and many other countries. To make sure that you now learn about this option and to persuade you to use it, if you ever have a chance, we have compiled a list of what we think are the best Ubuntu laptops in India in 2023. 
 Today you have many mainstream brands selling their laptops that run on Ubuntu. This OS is getting widespread acclaim, and it shouldn't be far from what might suit you. Here we are going to introduce you with a couple of big names while also pointing to smaller manufacturers who rely on Ubuntu OS in India. 
 This list could have been longer, but our choice was to only present to you those who represent pure quality and performance, which often comes at a price. Because of this, you'll be going to see big brand names such as Dell, System76, and Purism and also smaller ones such as Asus or Acer. Let's start with our first choice Acer (A315-21-43WX).
Acer (A315-21-43WX)
 This is the first Ubuntu laptop on our list, and it runs on their Home Edition. For the pleasure of your eyes, it has HD LED Backlit Acer CineCrystal TFT LCD Display, rounded at a 15.6-inch display, which offers 1366 x 768-pixel resolution. Under the bonnet, it holds an AMD APU Dual Core A4 7th Gen,2.2 GHz, which is equipped with a turbo boost, which can elevate its power to 2.5Ghz. Its speed and multitasking are ensured by using a 4 GB DDR3 RAM.
Acer (A315-21-43WX) storage holds an astonishing 1TB storage. Other notable options include HD Screen, Wi-Fi, and Bluetooth, of course. The price is a trifle as it stands at $275. 
Pros: Price; Storage. 
Cons: Low RAM. 
Dell XPS 13 7390
 If you are looking for an elegant design above all other traits, this is a laptop for you. For a short time, XPS 3 was the best device of its kind on the market. It no longer is, but still, it will give you a run for your money. Dell took its job seriously with this model, and this makes it one of the fines models that run on Ubuntu available on the market. 
 In its base option, this laptop comes with 8GB of LPDDR3 RAM at 2133 MHz. If you want to push its performance with an additional $100, you can receive 16GB of RAM. The storage is not as ample as on the model above, as it comes in two offerings of 256 and 512GB. Its display is a state of art 4K, 3,840 x 2,160 pixels, InfinityEdge touchscreen. The only downfall of this model is that it comes only in silver/black combination, which is not all that bad. 
Pros: Incredible design; Has excellent connectivity.
Cons: Not enough custom options. 
System76 Serval WS
 System76's Serval WS speaks for itself. It's one of the best laptops available that use Ubuntu OS. Its display comes in two sizes – 17inch and 15inch variants. The 9th Gen Intel Core processor you'll find on this laptop belongs in a desktop computer, which really sets the tone for this machine. 
 In terms of storage and RAM, this device has a considerable range. You can pick anything up to 64GB of RAM and up to 12TB of storage. Incredible numbers that are supported by various types of Nvidia GeForce RTX GPUs. It is ideal for gamers as its display offers both Full HD and 4K support. 
 The design of this laptop is a tale for itself, as even its keyboard has its lights. In terms of ports, it also offers plenty, and its connectivity is without a pair. The one issue could be its weight as it's close to 3.5 kilograms for a 15-inch version and close to 4kg for 17-inch one. Another thing that weighs a lot is its price as it costs $1,999. 
 Pros: Strong machine, comparable to top desktop computers; Can posses up to 64GB of RAM.
Cons: Pricey as hell. 
Purism Librem 13
 This laptop was created with one sole purpose: to be the most secure laptop ever built. It achieved not only this, but it's also one of the best LT running on Linux OS, Ubuntu, among others. 
 It runs on the seventh generation of Intel processors, and it can contain anything from 8GB all up to 32GB of DDR4 RAM. On its surface, you'll find a physical killswitch, which makes it the only notebook on the market with this option. The company making these laptops set standards in terms of privacy and security, which is something you'll learn to appreciate if you buy this laptop. Its price starts at $1,399.  
Pros: Extra secure design; Good warranty deals.
Cons: Hefty price. 
System76 Oryx Pro
 The reason why this laptop is on our list of best Ubuntu laptops in India in 2023 is rather simple. It's one of the best at taking advantage of the Ubuntu operating system as it can run on both Ubuntu 18.04 and Ubuntu-based Pop!_OS. It comes with a sleek design that relies on a beautiful combination of the colors of aluminum and matte black. 16.1 inches and 17.3 inches are the display sizes this device offers. 
 On the inside, things only get better when you see that it has 9th generation Intel Core i7-9750H processors that have 2.6 GHz, but it can rise to 4.5. RAM comes in a DDR4 version which can be upgraded up to 64GB, or in a 'slower' 32GB version that gees up to 3000MHz. 
 Two SATA hard drives are at your disposal for storage. They can hold up to 8TB of data. Graphics are run by an NVIDIA GeForce RTX that comes with three options – 2060, 2070, or 2080. The one thing that makes it a perfect movable laptop is its weight. The smaller 16.1-inch version weighs 2.1kgs, while the 17.3-inch variant has a weight of 2.5kg. Both are indeed light, and this is a real advantage of this device. 
 Same as with some other models on this list, its price is the only downside as it starts at $1,699. 
 Pros: Great choice of display options; Amazing configuration options. 
Cons: The price tag. 
System76 Galago Pro
 Galago Pro is the second cheapest laptop on our list. Just like all other devices on this list, it can run on Ubuntu OS. It offers good specs for the price, which is its most significant strength. The specs are also fine, which, when you combine the two, gives you a product worth buying. 
 Its standard offering in terms of processors is a 10th gen Intel Core that comes in two variants – i5-10210U or the i7-10510U. The RAM also comes in two options: 8GB DDR4 RAM at 2667MHz, which is a starting point that can reach 64GB. The primary offering in terms of storage is a weak 240GB SSD, which can reach the stratosphere with a 6TB SATA hard drive. 
 Its weight is only 1.3 kilograms, which makes it one of the lightest laptops on our list. But, with more upgrades, you want to add, its mass will increase.  
 Pros: It offers plenty of space for expansion; Display comes on Matte Full HD as its base option. 
Cons: Small storage at lower versions; No diversity in choosing display options at the base version of this laptop. 
ZaReason UltraLap 6440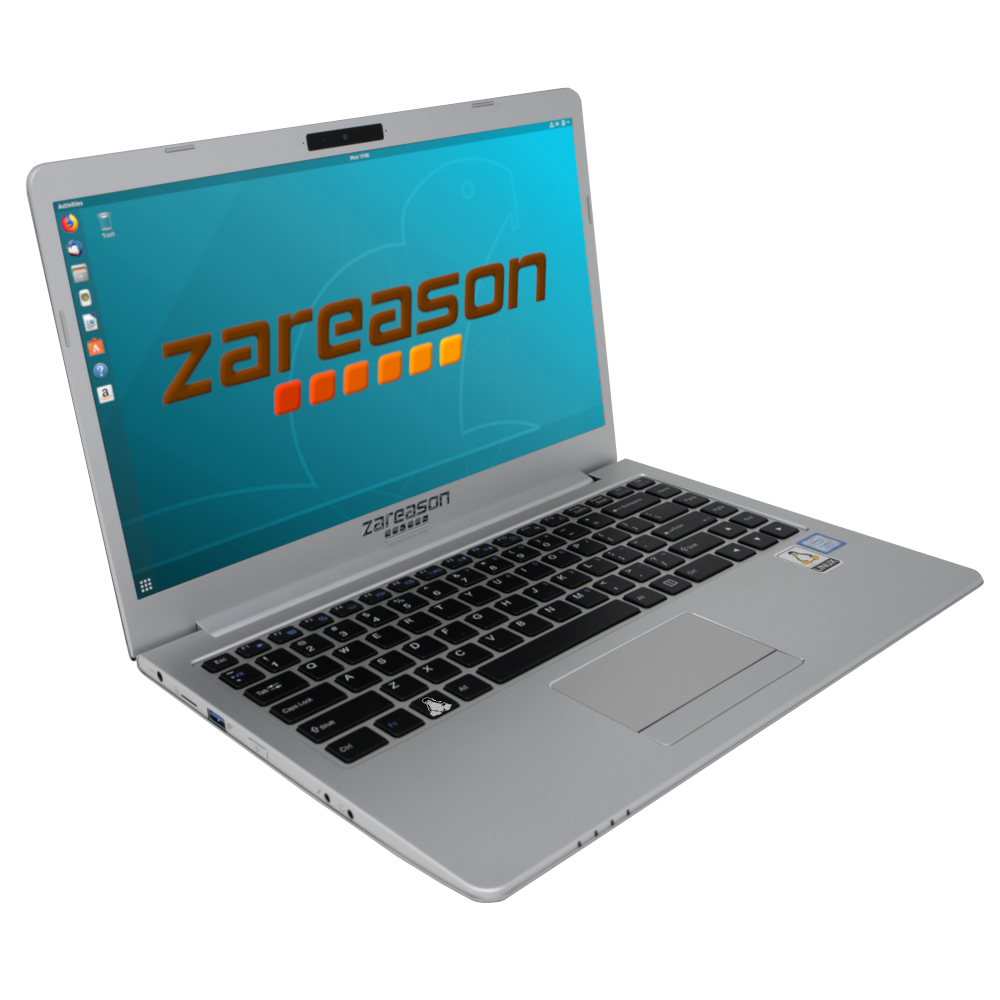 This laptop is perfect for people who enjoy customizing their machines. ZaReason UltraLap 6440 offers plenty of space for you to do this. It comes with a Linux OS, Ubuntu included, but you can change that on this device the same as hardware options. While we do not recommend moving away from Ubuntu, this can be done if you have a strong desire to customize your LT fully. 
 While customization is possible on this model, there will be those who find its base hardware more than satisfying. The low version comes with an Intel Core i5 processor, followed with 4GB of RAM, and a 120GB SDD storage. If this is not enough, you can easily switch to an Intel Core i7 CPU, or 2TB of storage, and even up to 32G of RAM. 
Furthermore, it offers an option of an additional hard drive to create 4TB of space. The price of this piece starts at $999.  
Pros: Affordable price; Option of adding a hard drive.
Cons: Not enough RAM at the entry-level offer.  
Conclusion
Here we are, at the end of this article, with some of the best Ubuntu laptops on the Indian market listed above. You have them all; pricey with excellent specifications, and those low-cost that can do the work. All that is left for you is to check your wallet, bring it in line with your desires, and chose yourself a perfect laptop. Whether it is a low-budget Acer or a costly Purism, you won't make a mistake if you pick either. We made sure that only the best are on our list.