Becoming a manager is a dream for many of us and even a stepping stone to a higher position. What's more, the world will never stop needing leaders – people we can rely on to keep teams, businesses and even large parts of whole industries running.
However, no matter your field, management positions are likely to be limited, meaning that you will have to do whatever is necessary to get ahead of the pack. While managers are in high demand, becoming a leader – or managing a brand or team – often pays well, and therefore competition is fierce!
This means putting in lots of hours, being an exemplary employee, and developing management skills and qualities while you continue to progress.
However, this is all very vague and will not get you into a management role alone. What are some proven ways that you can climb your way into management success with just the right attitude and willingness to succeed?
Pursue higher education
Going the extra mile with your education is one of the top ways to set yourself apart from an increasingly competitive pack. While you may have the credentials necessary for the position you seek, having extra qualifications could be the difference that gets your foot over the finish line.
Depending on where you are in your education, you could choose to get a bachelor's degree, a master's degree, or even a doctorate. It pays to consider management courses and training if this is the route you wish to pursue. Generally, a college education will help you skip several rungs of the ladder on the way up. You may also wish to niche down – consider an operations management master's degree online, for example, if you're looking for fast-paced problem solving.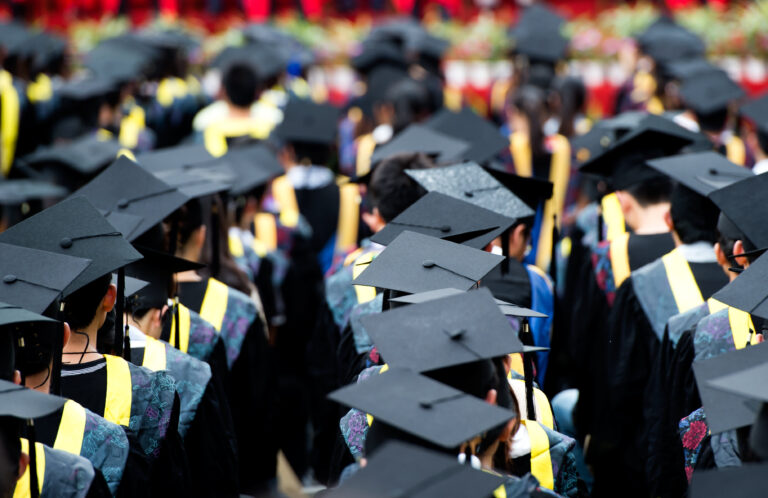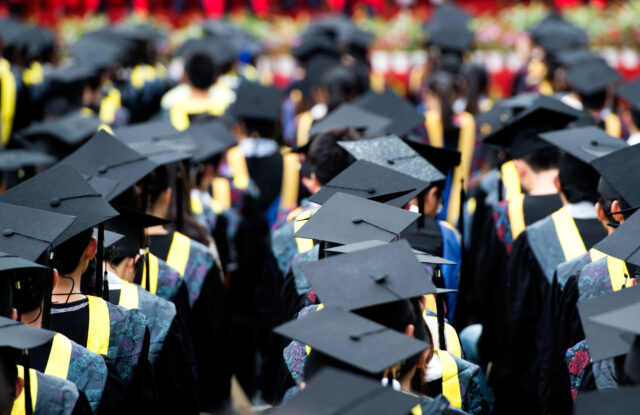 It is important to understand that while higher education naturally means more time studying, it does not mean that you won't also be working in the professional field of your choice.
During master's degrees and doctorates, internships are often required to complete specific modules, at which point you will be simultaneously working in your chosen field and studying. When it comes to management, actively practicing your organizational and people skills is a must.
You can even continue your education while maintaining a full-time job. Nowadays, more online courses are available than ever before, including specialist modules in management and leadership. You'll get to choose your school hours and start learning without being physically in class.
That way, you choose when you work, and your school life will fit around everything else. This can be the perfect opportunity if you are already currently working through the ranks in your company and do not want to leave to pursue your education further. The COVID-19 pandemic has accelerated the take-up of distance learning – this form of studying is an asset to modern life and career development.
Continuing your education not only shows devotion to your industry and craft – and helps you come away with useful, demonstrable qualifications – but you will also be more up to date with current movements in your industry, including new rules and expectations. You'll also get to explore some of the most effective management practices in the modern age.
Keep networking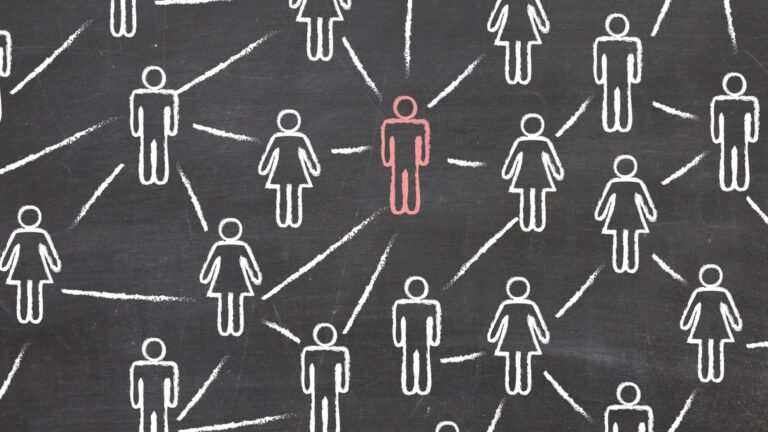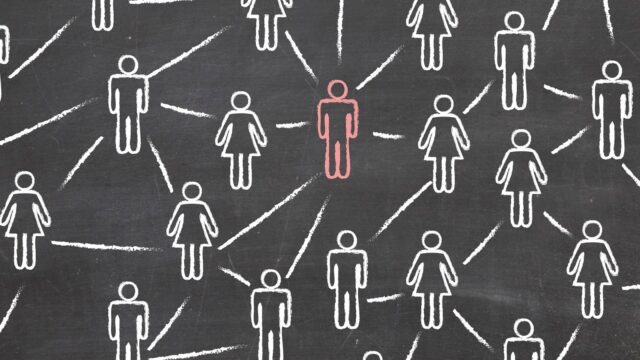 In many fields, they say that it isn't about what you know – it's about who you know. While you should absolutely work hard and strive for growth, networking is an asset in helping you to scale up the management ladder.
Networking at a base level involves interacting with the people within your company. Get to know everyone above and below your position. Look for opportunities where you can actively grow as a leader, or where your skills may be transferable to specific departments.
However, you should also look at people outside of your company and within the industry.
The general rule of thumb is that the more people in your industry who know who you are, the more chance you have in connecting with those who can help you move ahead. Ideally, they should know about your competencies and how valuable an asset you are as a leader or management specialist. That way, when promotions occur, your name will be one of the first – if not the first – that springs to mind.
Getting to know those around you is a great way of getting to know the company inside and out. If you do reach management level, you will need to know who is working in which department, their duties, and who is reliable and competent – the list goes on.
Knowing who your key players are when you make it to the top will be vital in keeping your role and even growing past it!
Finally, while company loyalty is important, networking with others within your field could help you to reach your goals faster. Not all companies will have positions available to you, even if you are a star employee. So, it is best to keep as many doors open as possible. People always move on and grow elsewhere – it's a fact of business.
Shadow your manager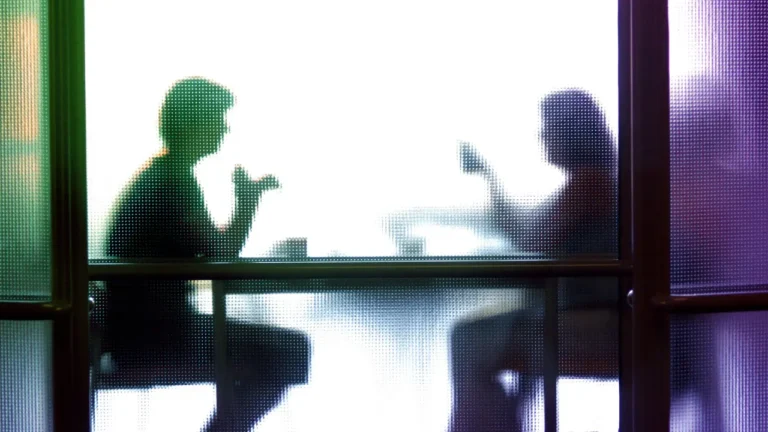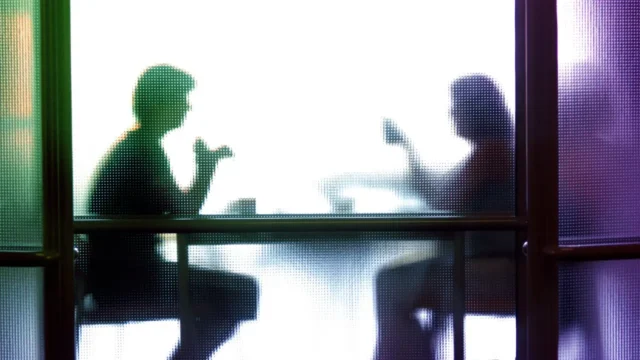 The best way to learn how to be a good manager and how to reach your ideal position is by watching how your own supervisors operate. It's a quick route to learning how to manage crises, how to uphold the brand, and how to motivate others. In some cases, you may even learn how not to manage a team or business effectively.
Learning the key skills of management isn't a process that's specific to any given industry or niche. If you know someone in your family, at school, or even in another industry who has management experience and responsibilities, try shadowing them. Ask them for an insight into how they manage their workloads – and ask if you can sit in on meetings or certain projects and watch how they manage their teams.
That being said, working closely with your manager is likely to provide more transferable long-term results. Become their go-to employee for certain tasks, and let them know that you are ready to take on extra responsibilities. Of course, you should never allow yourself to be taken advantage of, and ensure that the extra work you are doing pays off!
Also, having a solid working relationship with your manager will put you in good stead if they get promoted or decide to leave the company.
Take on more responsibilities
As mentioned, showing the willingness to take on more responsibility is an asset in your journey towards becoming a manager. To get any kind of promotion in your field, you must show that you are motivated and willing to go the extra mile for the company. The best way of doing that is by taking on more responsibilities – even if it means no pay rise or overtime at this point in time. Much like an internship, you're in it for the experience.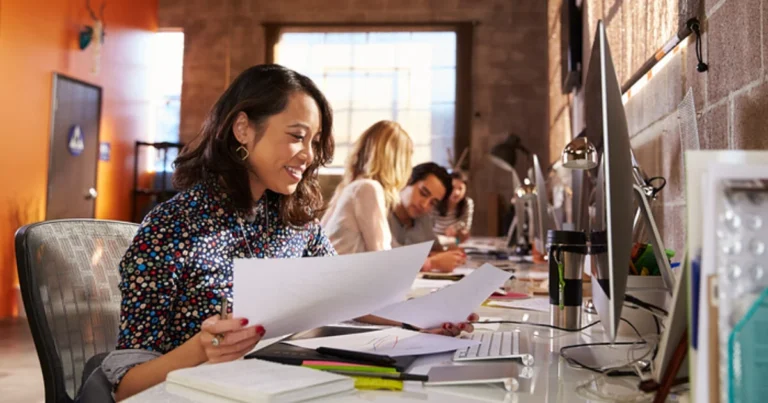 You could advise your manager that you want to help wherever you can, that you can offer your services in other departments, etc. This can help demonstrate flexibility and a willingness to learn, both of which are key skills when pursuing management roles in any sector.
The idea is to show your superiors that you are more than capable of doing your own job and more, thereby presenting yourself as management material.
However, by taking on more than you can handle, you risk letting your other work suffer from your lack of focus and/or time. Take on what you can handle and do your best. This will show your manager and other supervisors that you are more than just interested in your job and that you have the potential to go further. Passion is key to a manager's success, not just competence and availability.
Become a standout member of your team
Unfortunately, as friendly as you may be, getting ahead in management can often mean taking steps to ensure that you're head and shoulders above the rest of your peers. There's never a good cause to be aggressive or rude, but being driven will get you to where you want to be in no time at all.
There is a lot that comes with being an exemplary employee. First, always consider your appearance, both physical and in terms of your character. You must always remember that you represent the company and should dress for the position you want. This shows pride in your work, the company and yourself – professionalism is golden.
Regarding your character, being on time, prepared and on top of your work is important, but you must also consider other things. Something as trivial as complaining about your work, a colleague, a project, or a client on your social media can be extremely detrimental. This kind of behavior shows a real lack of professionalism and will reflect poorly on the company.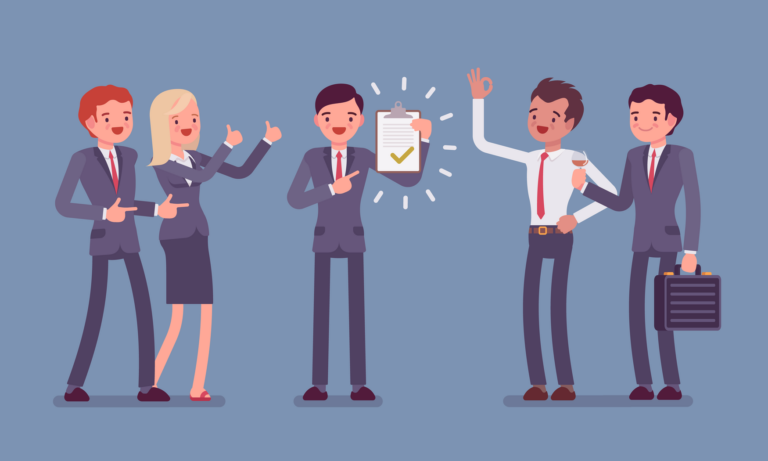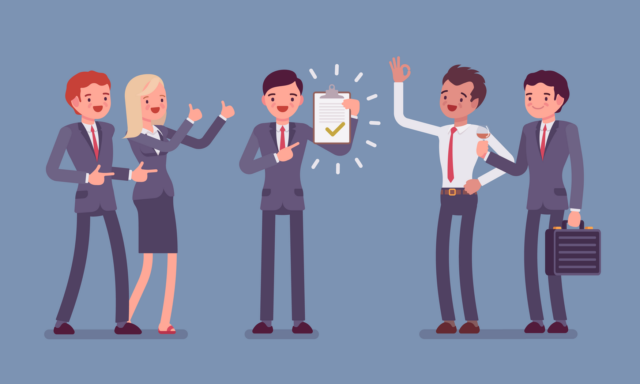 Being a standout member of your team and company means more than just 'turning up' and 'doing a good job'. Embody your brand values and genuinely demonstrate that you care about the impact that you have on your company and your audience. This attitude will take you far.
Keep track of your work
Keeping track of your own work is important for multiple reasons, but when it comes to management success, unflappable organization is vital.
Fantastic organizational skills will help you to demonstrate your abilities as a self-starter. You'll be able to show in interviews that you turned a problem case or project into a success by applying yourself – and your skills – efficiently. Again, skills will only get you so far if you're intent on becoming a manager in any industry.
By keeping track of your work and, more importantly, your results, you'll also see clear signs of progress. Keep track of your successes to present them to your superiors.
Recording your success – as well as ensuring that you're always well organized – is crucial if you want to make big strides as a manager in any field. Headhunters and superiors want to see demonstrable proof that you're committed to your work, that you require little to no supervision, and that you can inspire others simultaneously.
Develop key management qualities
Above all, to become a successful manager, you need to think and act like one. Getting a degree in management skills is a fantastic asset, and during your course, you'll learn more about what a successful manager looks like. Regardless, it's a good idea to start developing these skills and attitudes as far ahead of time as you can.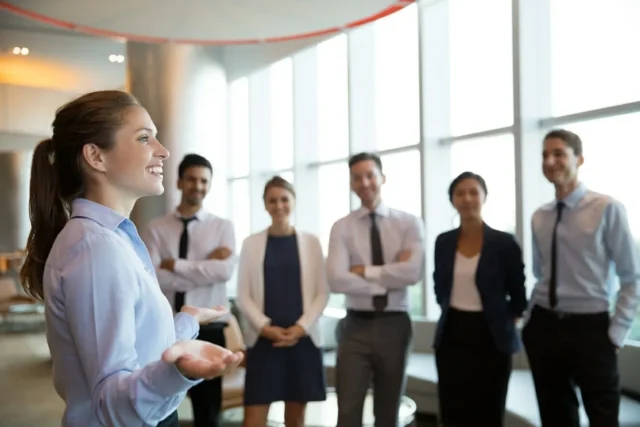 By adopting and honing these skills early in your career, you'll be able to apply them to your everyday role and demonstrate to your superiors that you're management material. Desirable managers are those that are motivated and always willing to find a solution, for example. Lazy or unmotivated people, meanwhile, will likely never get a shot at the top jobs.
So, let's talk about leadership. Leadership and motivational skills are vital to managerial success. As a manager, your job will be to organize and lead a team around you. This team will need to know that when they turn to you, they are turning to someone who knows what they're doing and who is capable of getting the results that the company needs. You can show this skill by taking the lead on group projects and presentations, and by being willing to listen to people and their concerns. The social aspect of the managerial mindset can never be overstated.
As a manager, you will always represent your company, its products and its ethos. Whether it's at conferences, networking events, or when communicating with clients, you'll need to be open and willing to listen to others. A good manager is one that a company will offer up as a representative come rain or shine, knowing that they'll project a fantastic image.
Reliability, of course, comes with the territory. People below and above you will expect you to find solutions and create plans to solve pressing problems. They'll also expect you to have their best interests at heart. Being approachable and willing to take on problems and projects will hold you in fantastic stead.
Above all, showing initiative and creativity is crucial if you want to go far as a manager. A creative mindset doesn't just apply to endeavors such as art or music – it also applies to solving problems and ensuring that the right people are in the best positions to help. A creative, passionate team member will go far as a manager if they show enough initiative to speak up.
You don't have to possess the perfect manager mindset immediately. This is something that you can develop and fine-tune over time – and taking on a degree or an online course in management skills (where you can apply such a toolkit as you learn) will help you on your way.
Is it worth learning how to become a manager?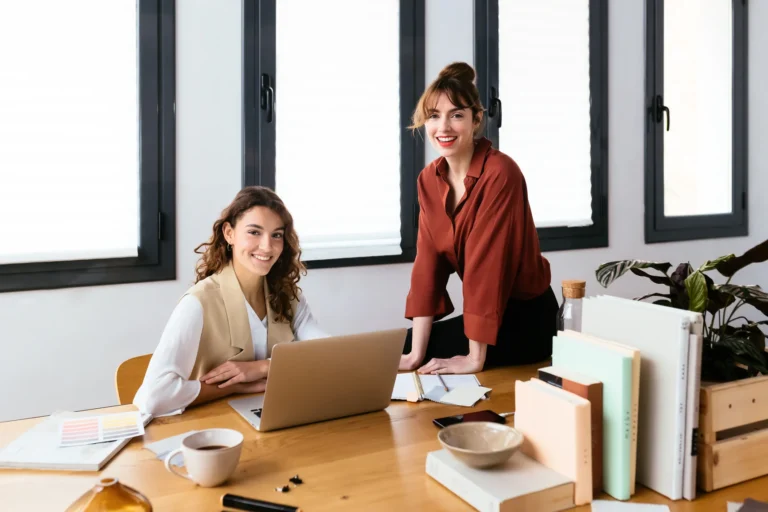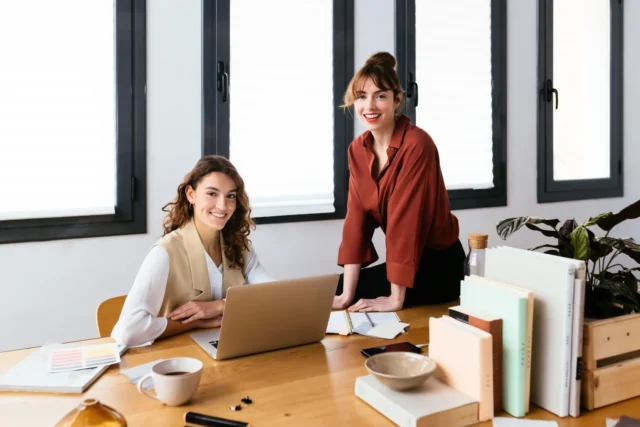 Management is certainly not for the faint of heart, but for the right individual, it's an immensely rewarding position. It's a great opportunity for born leaders to flex their organizational muscles and to help embody brands in need of support.
Managing a team, company or niche is more than a full-time role. It's an immensely demanding position that requires incredible passion and resolve. Therefore, management and leadership positions are competitively paid, and those graduating in related disciplines can expect a financially rewarding career path and one that offers a worthwhile challenge.
However, there are no one or two guaranteed ways to become a successful manager. Much of your long-term success will rely on your attitude and character strength, who you know, and how you apply yourself. Networking is a crucial facet of career development – and by getting your foot on the ladder with a management degree or similar discipline, you'll develop that killer mindset and skillset.
If you feel that you have what it takes to succeed in management, the best time to start developing your skills and attitude is now. Get to know your own managers, and research your industry carefully. Be sure to keep an open mind, and never forget the people you work with. Just because you want to be their boss, it doesn't mean that you can tread on them on your way up the ladder.
If you're a people person, are meticulously organized, and aren't afraid to get creative when solving problems, then fast-tracking your way into management may be just what your career needs.