From sunrise breakfasts to sunset dinners, an outdoor kitchen can truly elevate your at-home dining experience, bringing together the comforts of the indoors with the charm of open-air cooking. But creating an efficient, stylish, and user-friendly outdoor kitchen is an art in itself.
The Basics of Outdoor Kitchen Design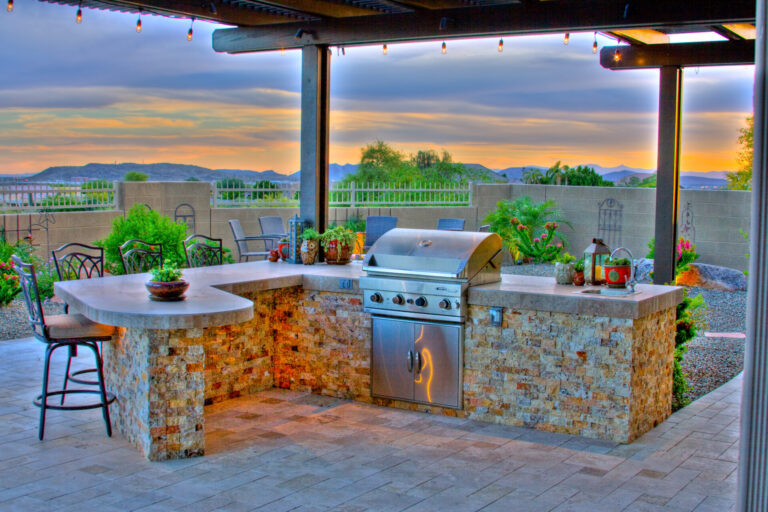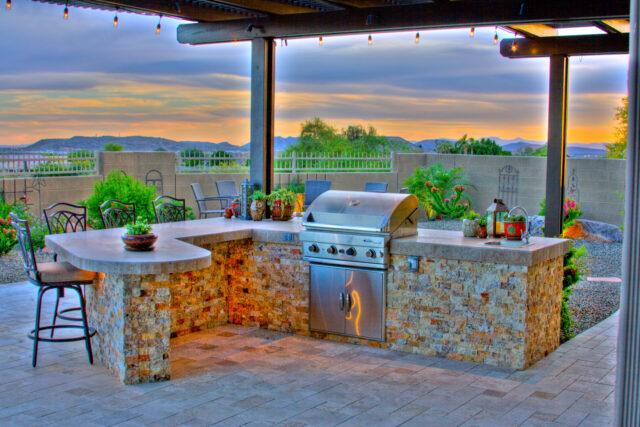 Outdoor kitchens have come a long from the old Weber grill sitting on a concrete slab in the middle of a patch of grass. They're now seen as luxurious extensions of the home – outdoor living meets culinary perfection.
Here are some of the latest trends happening in outdoor kitchen design:
Minimalist designs – Sleek and clean lines are totally in! Many outdoor kitchen designs center around clean functionality and aesthetics.
Rustic themes – While some people aim for a minimalist appeal, others go for a more natural or rustic theme to fit in with the outdoor elements. Wood, stone, vintage accessories, and earthy vibes are all the rage!
Eco-friendly design choices – It's popular to use sustainable materials, recycled elements, and energy-efficient appliances.
Smart tech integration – It's the era of the smart home! And that extends into the backyard. Things like voice-controlled lighting and Bluetooth grilling accessories are extremely popular at the moment.
Equally important in outdoor kitchen design is location. While your property may or may not give you much flexibility, you should factor in things like sunlight considerations, wind direction, the proximity to indoor amenities, privacy, views, and HOA restrictions.
Choosing the Right Appliances & Materials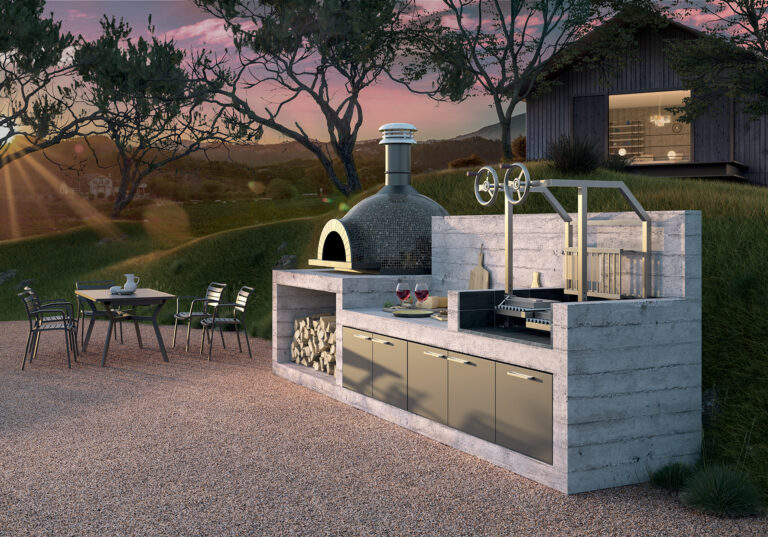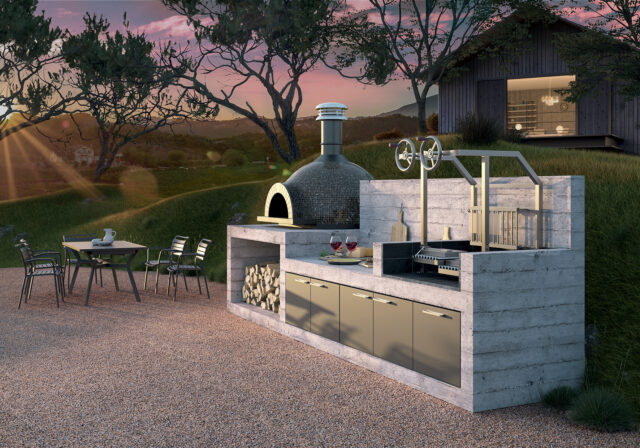 A successful outdoor kitchen is the perfect marriage of form and function. Thus, you must be very selective in the appliances and materials you select. This starts with your cooking appliances.
With so many different grills to choose from, it can be challenging to know which one is best for your situation. Ultimately, it comes down to your cooking style and needs. There are gas grills (convenient), smokers (amazing flavor), flat top grills (versatile), and other combinations.
One good option is to have a grill – you choose the one that fits your needs – and then a double side burner next to the grill with a refrigerator and warming drawer underneath.
"The double power burner is an excellent choice to boost cooking capacity," RTA Outdoor Living explains. "You can have two pots or pans going while you are grilling burgers. This is perfect for making sauces and side dishes to complement the main component of your meal."
Having a refrigerator allows you to store cold drinks and keep fresh ingredients nearby so that you don't have to make dozens of trips inside when preparing meals. The warming drawer gives you the flexibility to cook different dishes at different times and still have everything fresh and warm for serving.
In terms of materials, you'll want to think about durability and weather. For countertops, options like concrete or granite give durability and beauty. For cabinets and storage, thick stainless steel is always a great option. If you have flooring, make sure it's slip-resistant. Tile, concrete, and natural stone are all popular.
Picking the Correct Layout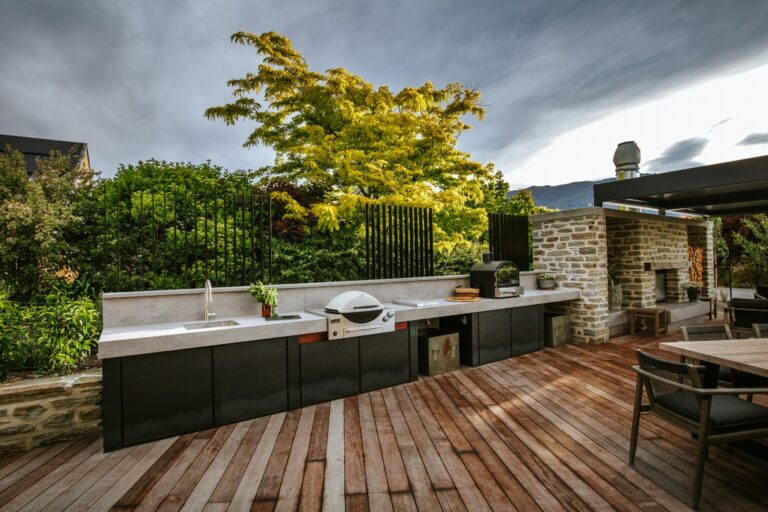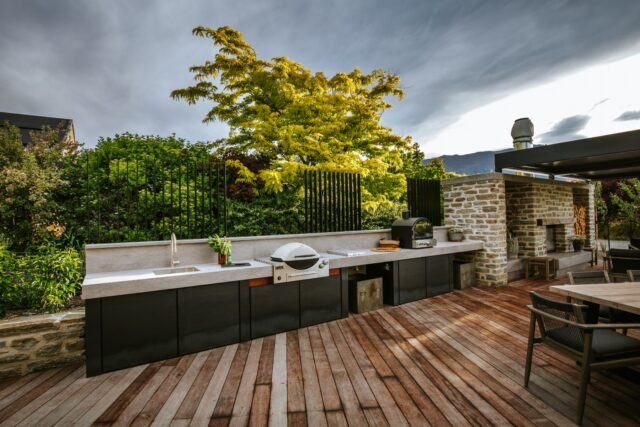 Creating an outdoor kitchen that's both functional and comfortable requires thoughtful planning of the layout. This involves organizing the cooking, prep, and dining areas in a way that optimizes space and enhances the overall flow.
Cooking Zone: Place grills, ovens, and stovetops together to create a concentrated cooking area. Consider ventilation and safety in positioning.
Preparation Area: Allocate counter space near the cooking zone for chopping, mixing, and other prep tasks. The inclusion of a sink can facilitate easy cleaning.
Dining and Seating: Consider proximity to the cooking and prep areas but maintain enough distance to keep guests away from heat and smoke. Aim for a sociable arrangement that fosters conversation.
Also, take your time to think about comfort and functionality. You'll need some shaded areas, which can be created using pergolas, umbrellas, or other structures. Depending on your climate zone, you may also need heaters or fans to keep the area comfortable.
Then there's entertainment, like sound systems and TVs. Be detailed in your approach!
Final Considerations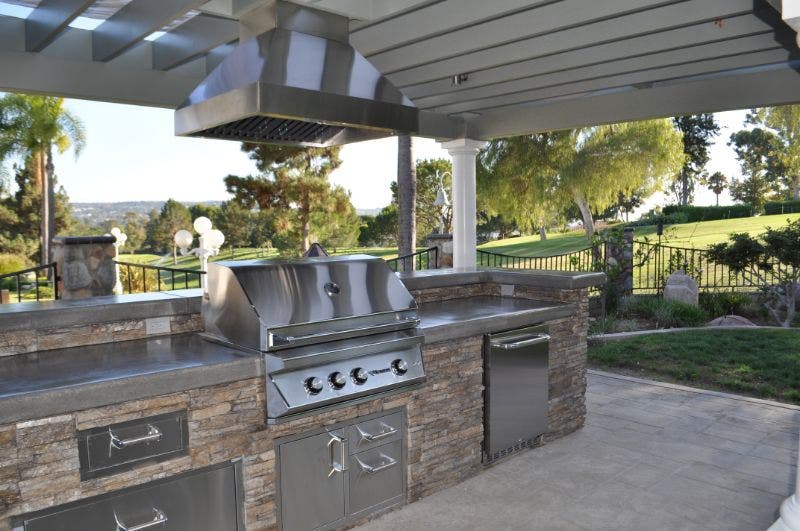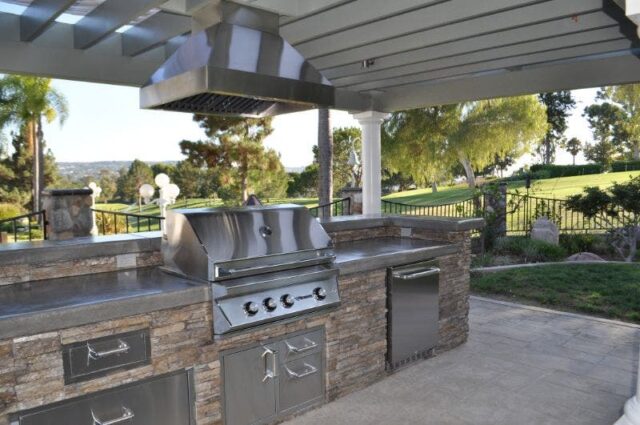 There is no cookie-cutter outdoor kitchen design. Part of the beauty is that every homeowner gets to choose their appliances, materials, layout, and aesthetics.
This is an exciting process, so take your time and pay attention to every last detail. Once it's finished, you'll be glad you did!
Discover how incorporating these five outdoor additions can transform your outdoor living space into a comfortable and inviting oasis.