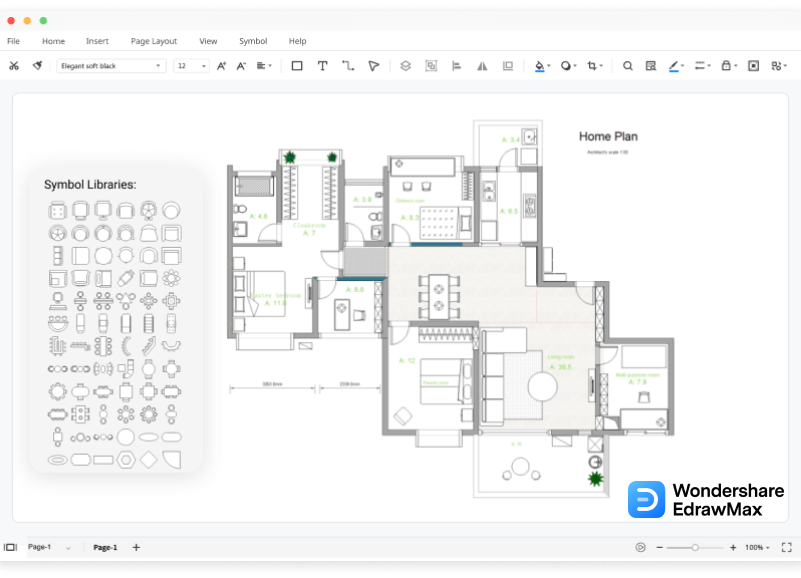 A house plan consolidates different construction-related drawings that help define all the construction specifications of any residential property. Typically, a house plan provides general instructions for building houses, including blueprints with floor plans, HVAC layouts, reflected ceiling plans, and more. In most cases, a house plan also helps understand other construction information, like material, cabinet layout, kitchen and fireplace instructions, and more.
Some of the technical and personal benefits of drawing a house plan before the actual construction takes place are:
It becomes easy for your builder to get approval from the regulatory authorities if they have submitted a standard house plan.
With house plans in place, it becomes easier to understand how the entire house or building will look post-completion.
By creating a house plan, one can easily mitigate errors and even improve on certain house details.
With house plans, builders or constructors can showcase important house features, like bedrooms, bathroom units, and more.
Sometimes, a house plan is merely a starting point to work with a constructor or a builder, but it comes in extremely handy as they help the residents learn more about their dream house, even before construction takes place.
Preparations for Drawing a House Plan?
When either you (a resident) or a builder starts drawing a house plan for a residential unit, there are several aspects that they should be looking for. For instance, residents should realize that if they are not accessing the right software, things might go a little differently as they start drawing a house plan. At the same time, the cost of hiring an engineer who will design the house plan is also a deciding factor.
Some of the important preparations that you should be done before drawing a house plan include:
Visiting the site: Before you start drawing a house plan, ensure that you physically visit the site. This will help you understand the internal and external environmental factors that you will have to consider before planning the construction of your house.
Analyzing the budget: The budget plays a very important role in construction. Sit down with your client and learn more about their budget and according to that, start working on the first draft of the house plan drawing.
Understand the requirement: After discussing the budget with your client, learn about the lifestyle and requirements. Learn about the number of family members who will be living in that house. Once you have gathered such information, it will become very easy for you to draw a house plan.
Choosing the software: Accessing the right house plan software is necessary if you are not coming from an architecture background. You can go ahead with EdrawMax if you are planning to draw a house plan effortlessly. The tool features free templates and industry-level symbols that help in designing the house plan.
How To Draw a House Plan Effortlessly?
House plans and even floor plans require a certain level of precision from the architecture side. However, if you are looking to draw a house plan effortlessly, we recommend checking out the following steps, where we take the help of EdrawMax to make a house plan.
Download House Plan Software: The first step in the series of steps is downloading EdrawMax from the official website. Once you download, you can either start drawing the house plan directly or register if you are planning to access all the unlimited features this free house plan software offers.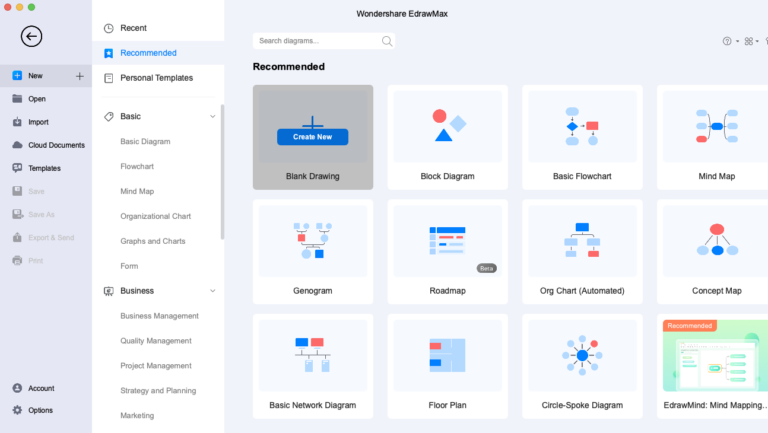 On the homepage of this house plan software, you will find a series of diagrams. Navigate to the 'Engineering' diagram type and click on 'Building Plan.' This will open up different building plans that you might require. Click on 'Home Plan' or 'Floor Plan' to start building the house plan effortlessly. Upon clicking, the tool will give you access to the pre-built templates that you can check and start drawing the house plans.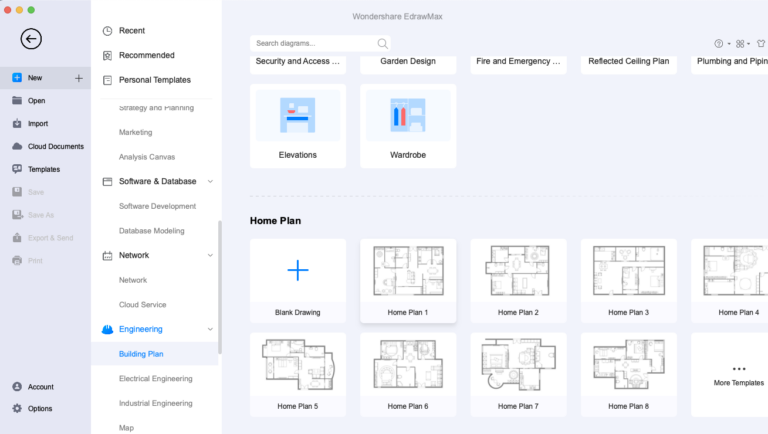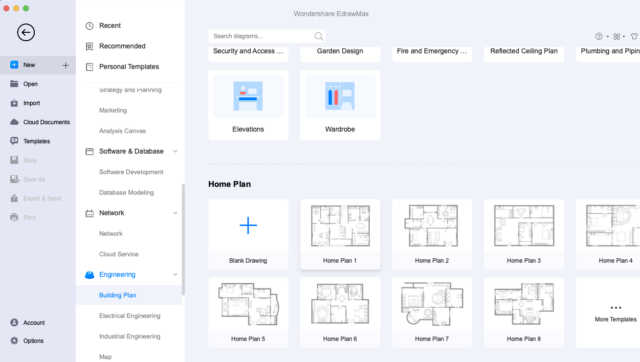 Access Templates: This free house plan software provides access to the template community that has thousands of user-generated templates. Click on 'Templates' from the left and search for 'House Plans' or 'Home Plans.' Here, you will find several house plan templates that are ready for you to use. Some of the highly acclaimed house plan templates are Plumbing Plan for House, 20 * 60 House Plan, Colored House Plan, House Plan With Dimensions, and more.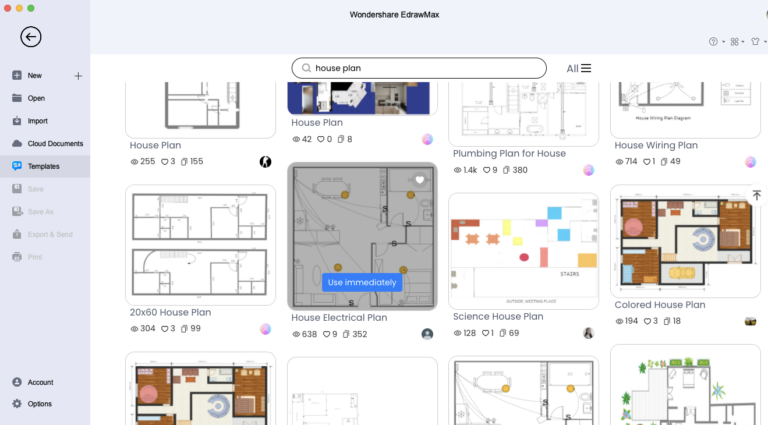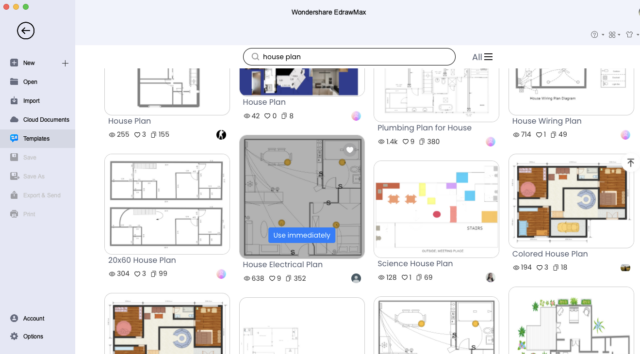 Click on any of these house plan templates that you like and if you want to duplicate the same content to your drawing, click 'Use Immediately.' This way, you will have all the dimensions, outline, layout, style, and more settings imported to your canvas. From here, you can now edit or customize the content as per your requirements.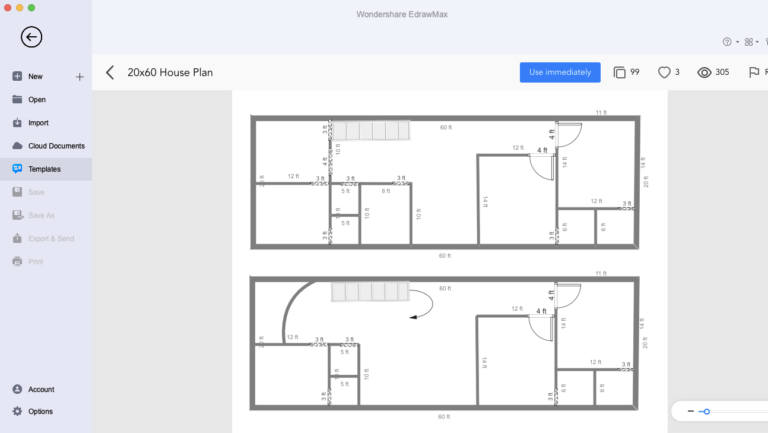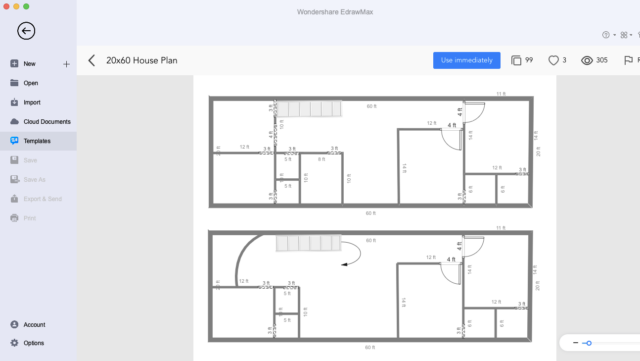 Blank Drawing: If you have an idea of what you want to make, we suggest drawing the house plan from scratch. On the homepage of this house plan software, navigate to the 'Engineering' diagram type and click on 'Building Plan,' followed by clicking on 'Home Plan' or 'Floor Plan.' From here, you can click on '+' to start designing the floor plan from scratch.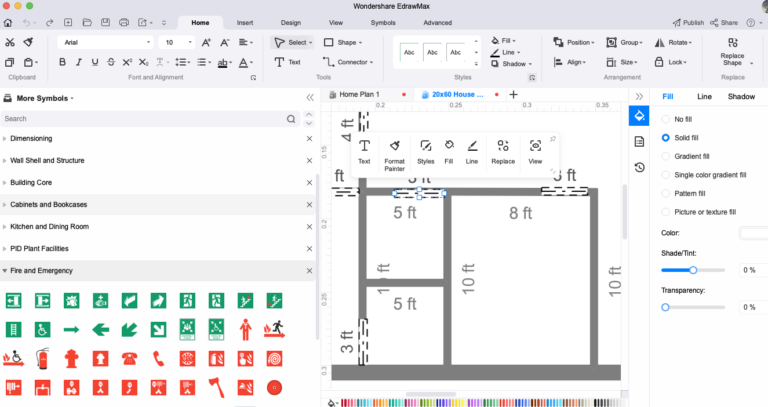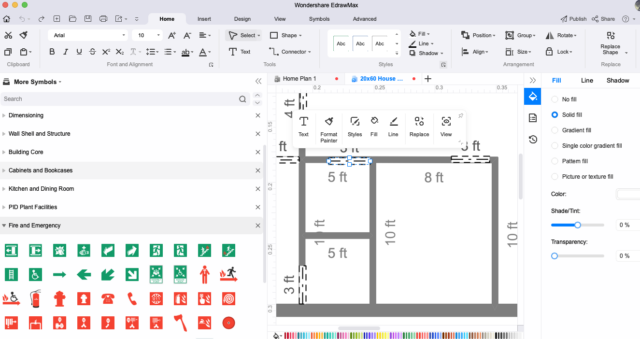 In the EdrawMax canvas board, you can start the drawing by first placing the right dimensions and structures and adding the wall shells, carpet areas, tables, and chairs.
Add Components: Every house plan design is incomplete without adding house plan components. In this free house plan software, you will find 25,000+ components to add to any design. From the left window, access the components from different categories, like Doors & Windows, Wall Shell & Structure, Dimensioning, Carpet, Kitchen & Dining Room, and more. Add these components as and where they are required.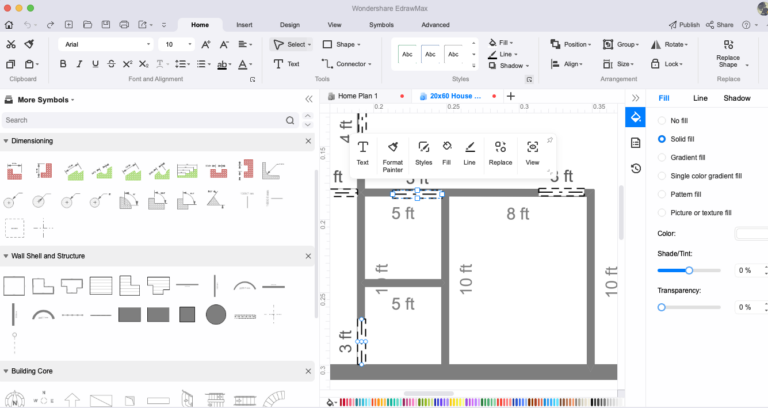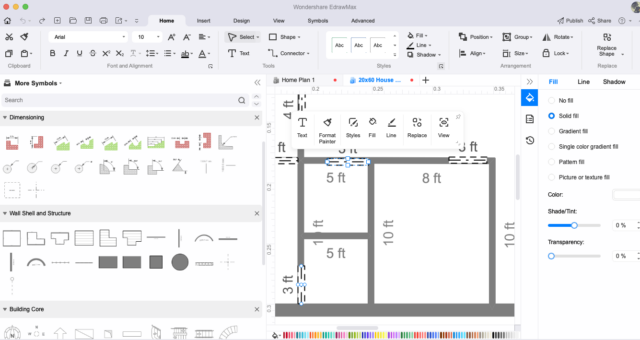 Export House Plan: After you finish designing the house plan in this free house plan software, you can export it into multiple formats depending upon your need. For instance, if you plan to attach the house plan to your submissions, you can print it or download it in JPEG, PNG, PDF, or SVG format. But if you plan to share it online, you can use the in-built feature of embedding or HTML sharing.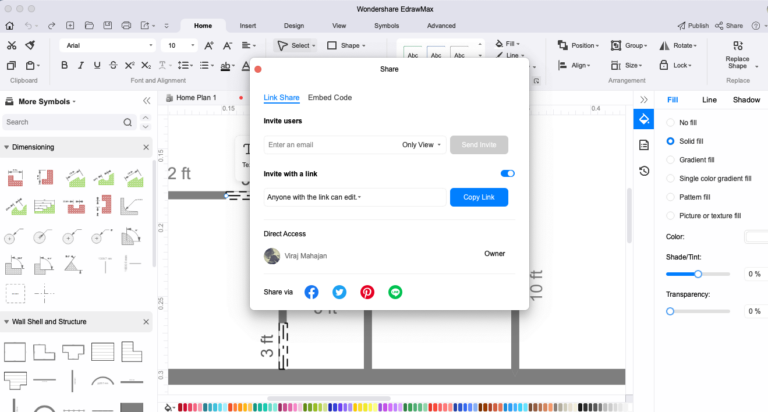 Final Thoughts
House plans, and even floor plans are very crucial for the development of any residential property. These drawings serve as an inspiration or a final layout for the builder as they set out and construct the house.
However, if you are planning to make the house plan yourself, you should check out EdrawMax, which offers a wide range of features that lets you design a house plan effortlessly.
With built-in templates and symbols, one can create a house plan without having the proper knowledge of architecture. Download this free house plan software today and access all the building plan features it offers.